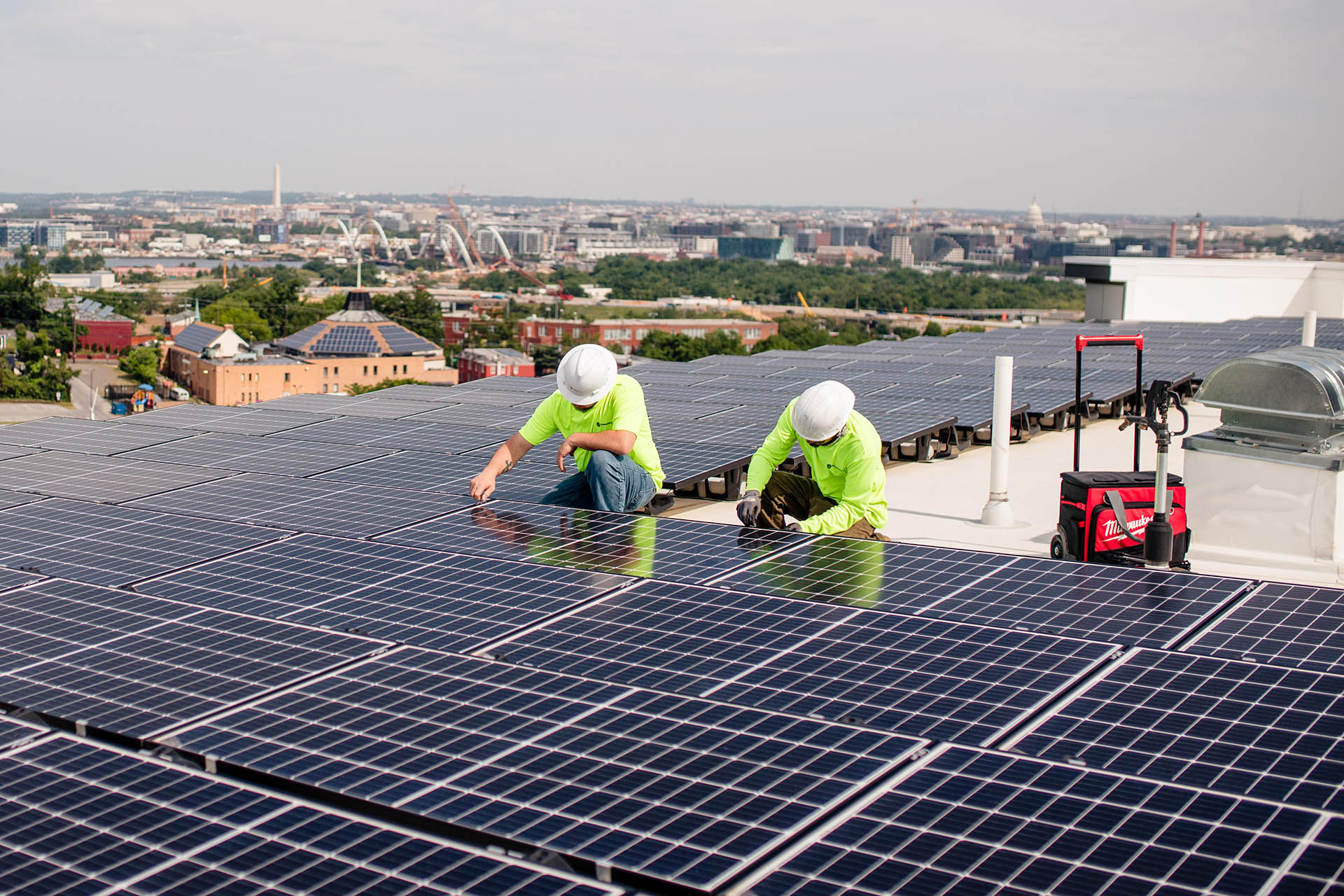 Residential Solar Panel Installation
Solar energy can operate your home just as well as electricity and brings several economic benefits to your Vienna home. Solar panels will make your home produce more energy than it uses, which will cause your energy meter to spin backwards and build up credited power. This reduces your energy bill each month, which can save you a lot of money. Your solar panel array will provide you with energy for 25 years and, over time, will cost less than 25 years of your current utility costs. If you want to save money while working to create a cleaner planet, consider solar for your home. Learn more about solar panel installation in Vienna.
Commercial Solar Panel Installation
Businesses often get a bad reputation for not being very environmentally friendly, but more and more business owners are turning toward cleaner energy sources in our age of increased environmental awareness. Making the switch to solar energy for your business can cut down on your monthly operating costs and even give you a 30% tax credit. Every business can benefit from solar energy, whether it's a large chain department store or small coffee shop. Learn more about solar panel installation for businesses in Vienna.
Agricultural Solar Panel Installation
Agricultural settings like farms, wineries, breweries, and vineyards can be operated by solar power. All the equipment these agricultural settings rely on to feed animals, water crops, and store products requires a lot of energy, and switching to solar can cut back on your operating costs and your environmental footprint. Prospect Solar partners with The Rural Energy for America Program (REAP). REAP offers a 25% discount toward the total solar panel purchase price for small farms who qualify. Farms, wineries, breweries, and vineyards can all become much more energy efficient with the use of solar power. Learn more about agricultural solar panel installation in Vienna.
Cost of Solar Panel Installation
Solar communities are crowdfunded clean energy communities that operate with solar power. The number of solar communities in the United States continues to grow as more people turn to clean and sustainable sources of energy. Solar communities allow each resident to pay for the number of solar panels that they can afford while still receiving the benefits of solar living. The revenue generated by solar panels is then given to each resident depending on their investment. Solar communities are an excellent option for those who cannot afford a full solar panel system or who rent their property. Learn more about the cost of solar panel installation in Vienna.
Request a quote
If you desire custom features and premium support, our team has the solutions to satisfy your needs.