Solar Panel Installation in Purcellville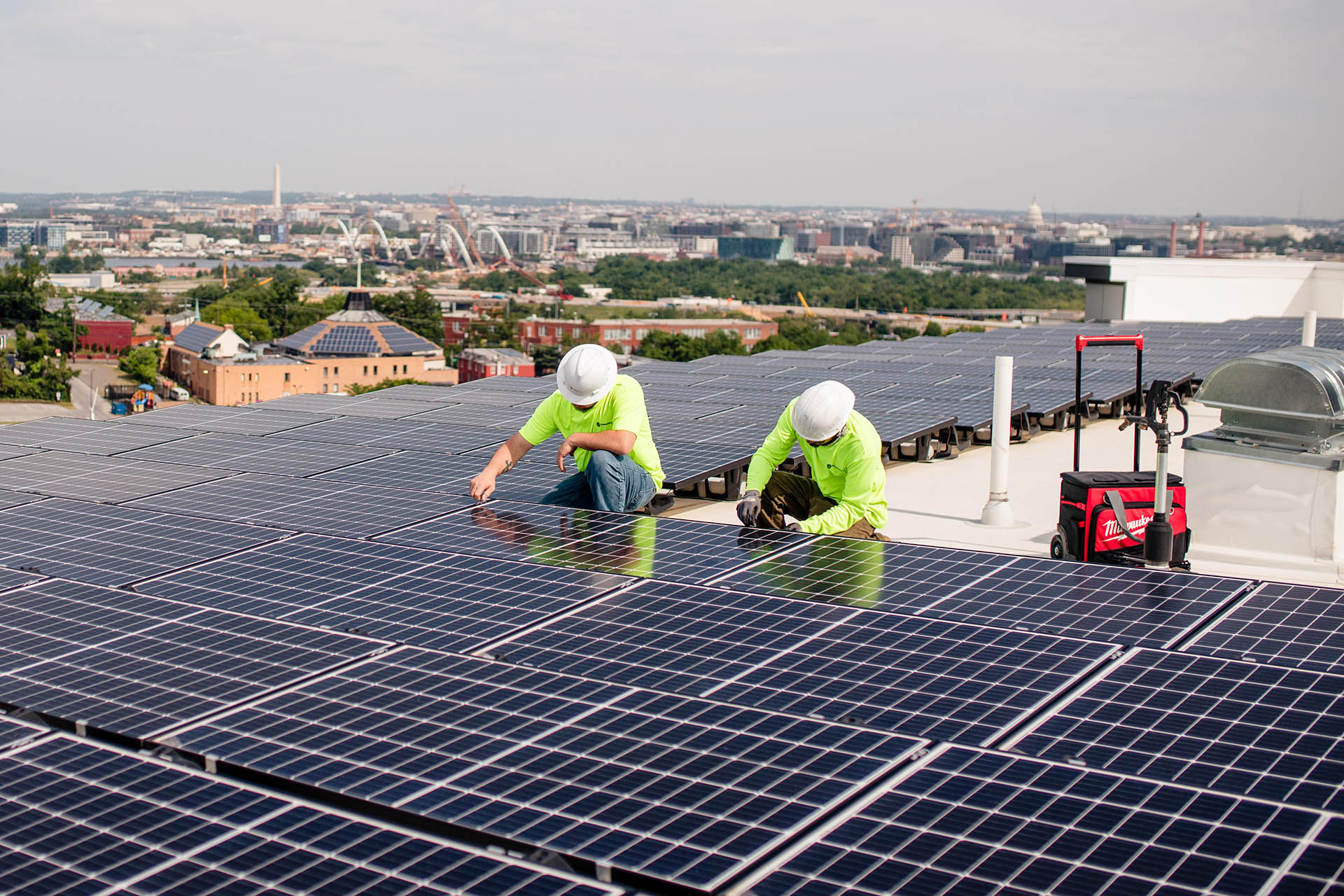 Solar power, the most abundant form of energy on earth, is a clean, long-lasting alternative to traditional fossil fuels. In urban Purcellville and our fast-paced modern society, it's more important than ever to find other forms of energy to reduce our collective energy usage and keep our planet clean. The use of solar energy in homes and businesses continues to grow in our age of increased environmental awareness.
Solar energy has unbeatable environmental benefits. In one hour, enough solar energy reaches the earth to satisfy the earth's global energy usage for a whole year. Unlike our current fossil fuels, solar energy produces no harmful byproducts, truly making it a clean energy solution for your home or business.
Prospect Solar is dedicated to educating others about the environmental and economic benefits of solar energy and providing them with access to this energy by installing solar panels. We can install solar panels in homes, businesses, and communities. We have proudly served the Purcellville region with professional solar panel installation services since 2010.
Residential Solar Panel Installation
Solar energy is incredibly versatile and can power your home just as well as electricity, including your appliances. Installing solar panels on your roof has many economic benefits for your home. Prospect Solar will engineer your panels' solar array to give you energy for the next 25 years that costs less than 25 years of your current utility costs. Solar panels will make your home produce more energy than it uses, which will cause your energy meter to spin backwards and build up credited power. This reduces your energy bill each month, which can save you a lot of money.
Prospect Solar is proud to install solar panels in residential homes in Purcellville. We understand that making such a big change to your home can feel confusing or overwhelming, but we are here to make the process as simple as possible. Our team members are experts on solar energy and are happy to educate you on its benefits as well as help you assess the specific design, size, and amount of panels you will need for your home. When it's time to install your panels, we will make sure we protect your roof and your surrounding yard as we work. We will install the panels right the first time so you can be sure your house will be collecting solar energy for a long time to come.
Commercial Solar Panel Installation
Businesses and corporations are often thought to have a bad reputation when it comes to their environmental footprint. However, the number of businesses who are implementing alternative forms of energy is growing. Purcellville is an urban area full of countless unique businesses, both large and small.
Just like using solar energy in residential settings, implementing solar panels at your office or workplace will reduce your monthly utility and operating costs. Every Purcellville business owner can appreciate saving money. Installing solar panels for your business will also set an example for other Purcellville business owners, fostering a positive public image in the nearby communities.
Prospect Solar's team of experts is here to help you understand the benefits of solar energy for your business, and to provide expert solar panel installation services. Switching to solar energy is a big change, but we will work with you every step of the way to make sure the process isn't too daunting. We can assess your company's needs and your environmental goal and can design the solar panels to reach those goals.
Farm Solar Panel Installation
Many farms in Purcellville are turning to solar energy as an alternate way to power farms. Using solar energy on your farm brings several economic benefits. Solar energy can help reduce your energy costs while increasing your profit. You can also claim 30% of the solar panel purchase price as a federal tax credit and even increase your property value!
Prospect Solar partners with The Rural Energy for America Program (REAP), which will offer a 25% discount toward the total purchase price for small farms who qualify. We are passionate about spreading the word of the benefits of solar energy and will help you reach your energy goals. Our team of experts will install your panels properly to ensure a seamless transition process.
Start Making a Positive Impact Today
Make a change that will make your home or business, and the environment, cleaner for years to come. Prospect Solar has proudly installed solar panels in the Purcellville region since 2010, and we strive to see the number of solar-powered homes and businesses continue to increase in the coming years. We have a passion for what we do, and we are dedicated to creating a better tomorrow.
Contact Prospect Solar today at (703) 444-2447 to get started!
Request a quote
If you desire custom features and premium support, our team has the solutions to satisfy your needs.