Advantages of Green Roofs and Solar
Reduced building heat envelopes mitigating Urban "Heat Island" Effect
Green roofs reduce HVAC billsand allow for solar to increase energy offset
Vegetative roofs can retain 50-90% of rainfall, avoiding storm water runoff
Reduces the amount of impervious surfaces in a city
As natural biofiltration devices, green roofs remove airborne toxins and re-oxygenate air; water retention allows for filtration of pollutants
Green roofs can reduce the noise levelsof a facility by as much as 40%
Extended roof lifecan be possible due to moderation of temperature swings
Warmth from solar panels provides vegetation a longer growing season
GRIPV systems can increase solar productionby as much as 16%
Learn More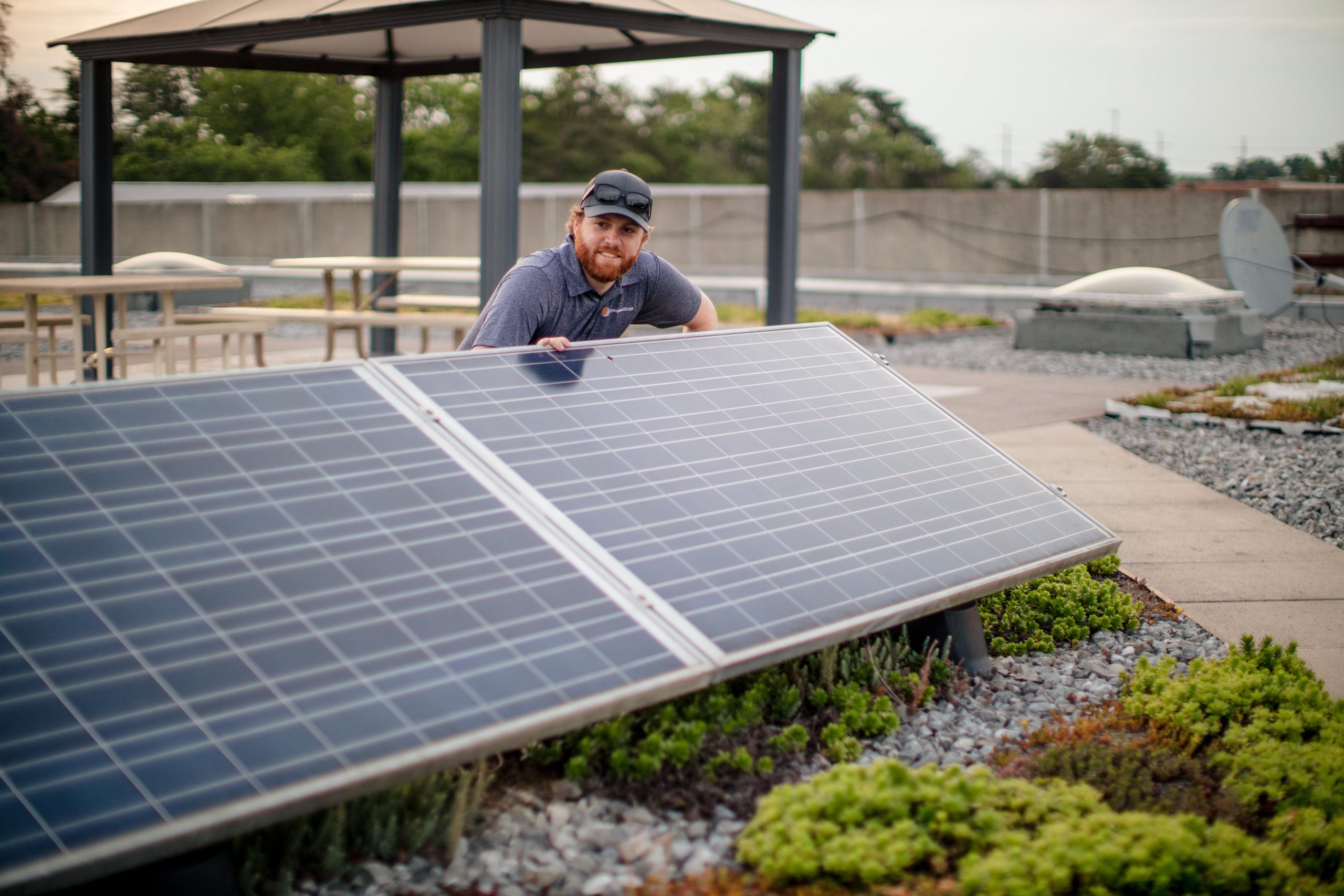 Our Expertise
Green Roof Construction
Green roofs are typically installed on an Inverted Roof Membrane Assembly (IRMA) roofing system. Sometimes referred to as a Protected Roofing Membrane Assembly, this system places the waterproof membrane directly onto the roof substrate (decking), and then uses a protective foam layer above it to prevent puncture of the waterproofing layer. From here, one of three types of green roof systems is installed:
Extensive – The most prevalent green roof system utilizing 3-6″ of growing medium. This low-maintenance approach can even be installed on sloping roofs, and is ideal for growing hardy drought, wind, and frost-resistant plants such as sedums, herbs, and grasses.
Semi-Intensive – Also referred to as shallow-intensive, this system creates roof top lawns and common areas that are ideal for foot-traffic and human interaction. Planted in 6-12″ of growing medium, these rooftop greenways provide a firm construction that handles continual pedestrian interaction.
Intensive – Intensive green roof systems are the most in-depth vegetative roof system. Sometimes referred to as "urban agriculture," these systems incorporate 6-36″ of growing medium that can accommodate sod grass, perennial and annual flowers, shrubs, and even small trees. Intensive green roofs require built-in irrigation and additional upkeep. However, the result is a flourishing green rooftop environment full of varied plant species.